I've been receiving electronic version of The Old Schoolhouse Magazine as well as their free e-books for the past year. The articles are very informative & curriculum references have been great. My only problem is not having enough time to get through all the material…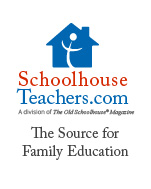 Become a SchoolhouseTeachers.com Member
at just $1 for the first month & thereafter $5.95 per month
See an extract from their Members Benefits page below:
"Member Benefits and Privileges
Daily, weekly, and monthly lesson plans and assignments are available 24/7/365 at the all new SchoolhouseTeachers.com.
1. Members-only access to lesson materials in these subject areas: Chemistry, Computer Science, Economics, Geography, History, Home Economics, Literature, Math, Music, Reading, Writing . . . and so much more!
2. The Old Schoolhouse® Magazine delivered straight to your inbox, monthly.
3. All The Old Schoolhouse® Magazine digital back issues—easily searchable, a fantastic feature that enables you to go directly to articles of interest.
4. The Homeschool Minute™ weekly E-Newsletter.
5. Download all five Schoolhouse Planners—the Parent version (hundreds of pages), all Student planners (3 versions) and the Special Needs planner.
6. 12 E-books from the Schoolhouse Store—one per month during the first year of membership.
7. All available TOS Expo-To-Go recorded sessions—including all future recordings, for the duration of membership.
8. After 12 months of uninterrupted membership, you will receive a $25 gift certificate to the "Totally TOS" section of the Schoolhouse Store.
The 2011-2012 Schoolhouse Planners, filled with scores of articles, helps, tips, calendars, and more—literally hundreds of pages of homeschool helps—are now free and yours to download!
Just go to the Schoolhouse Planner page.
Your monthly membership begins today with a $1 purchase! After the first month, your credit card or PayPal account on file will be billed at $5.95 each month. You can cancel anytime if not satisfied.
We think you'll want to stay, though, because every day, week, and month lesson plans and homework are updated, and more Schoolhouse Teachers and activities are being added each month. (We've got the best of the best: Kim Kautzer, Terri Johnson, Adam Andrews, and many more.) Your children will never tire of it! For the price of one fancy coffee per month, your entire family will have unlimited access to everything on the site, including all of the learning materials and worksheets, unit studies like art and history, reading lists, video learning centers, Teacher assignments, the annual TOS Schoolhouse Planners, and the Schoolhouse Expo webinars!
Log in daily and see what's new!
We are happy to have you do your homework with us at SchoolhouseTeachers.com! It's as easy as: Point, Click, Teach."